About five years ago, back in 2018, I got really into scuba diving. I was living on Guam at the time and while there is not a ton to do on Guam, there are a ton of diving opportunities at very low cost. Diving charters are numerous and available every weekend, but also there are a lot of beaches where a short surface swim can lead to some of the best diving in the world. I got my PADI Basic Open Water ceritification, went on a few dives, and was hooked. I was quickly diving every weekend and multiple times during every week. Within a few months I had also obtained my PADI Advanced Diver, Deep Diver, Wreck Divier, Night Diver, Nitrox, and Rescue Diver certifications. I absolutely love diving. Just a little below the surface, you quickly get the feeling that you are exploring an entirely different world. I imagine it's a feeling similar to what astronauts experience when on an EVA, or how the Apollo astronauts felt exploring the moon.
When I left Guam and returned to Virginia the diving opportunities dried up quite a bit, but I still did a couple of dives in local quarries and off the Atlantic coast. Shortly after returning to Virginia, we picked up and moved to Alabama. There are significantly fewer dive options where we live now, and I stopped diving for a number of years.
Early this month my family and I took a trip to Disney World for vacation. Leading up to the trip, my wife revealed that she had bought me a ticket to the DiveQuest tour at Epcot. This is a behind the scenes tour of the Epcot aquarium where you see how the sea animals are cared for and fed, how their medical needs are accounted for, where they came from, and most of all a chance to dive in the Disney aquarium! What a fantastic gift!
I hadn't done any diving in the four or so years leading up to this, so I went ahead and signed up for a local PADI refresher course. This probably wasn't completely necessary, but one of my golden rules of diving is that there is no 'dive police' that will stop you from doing anything unsafe or dangerous. You are your own responsibility, and if you're going to go in the water you need to feel confident in your ability to do so each time you do. The refresher course was hosted by Sourtheastern Divers Inc (SDI) in Huntsville. Wendy, our instructor, was fantastic. She was extremelly thorough in her judgement of our abilities, very open to any questions we had, and gave a very positive view to diving in general. I highly recommend anyone in the area to look into their charters, classes, and services, and I plan to do so myself when my schedule allows. There were four of us in the refresher, all of different skill levels, and she was happy fielding basic questions such as mask clearing and buddy air breathing and even more advanced questions like determing Nitrox partial pressures and max depths.
Having taken the refresher, on the 16th of July I met up for the DiveQuest tour. Disney does not allow photography throughout the entire trip, since pretty much all of the trip shows the 'behind the scenes' Disney where they do not allow photography. This includes all time spent in the backrooms of the aquarium where food, etc is produced, and also during the dive itself. However, obviously the other park guests can see you from within the aquarium and take any pictures they want, so my wife and kids got some pictures from the other side of the glass.
The dive itself is very easy. The max depth of the aquarium is 27 feet, but the actual max depth of the dive is around 25 feet to allow floor clearance. You're allowed around 45 minutes to dive with the group, and there are 4-5 dive masters in the water with you observing everything. You don't even have to worry about gas consumption! If you run low on gas, just surface and they'll swap out your tank with a new one. We were diving with steel 80s, and obviously running single tank. You're not allowed to use any personal equipment, Disney provides the BCD, fins, weight, a 2mm shorty wetsuit, and dive boots. You are allowed to bring your own mask if you want, however they will provide one if you didn't bring one (I forgot mine at home and used one of theirs which was fine). Also, you are allowed to use your own dive computer if you want, and they will NOT provide one if you don't have one (with a max depth of 25 feet and a time cutoff at 45 minutes, there's not any concern of NDL or deco). I did bring my own dive computer, just cause I like logging my dives and cumulative bottom time. You are required to show both photo ID (drivers license works) and proof of dive certification right at the beginning of the tour. For proof of dive certification, either a hard PADI card or the ecard on the PADI website seemed to work fine (I brought a hard card).
There is a ton of sea life in the aquarium. Multiple sharks, including a black tip and a hammerhead, many rays, and three sea turtles! The aquarium itself also has a number of dolphins and manatees, but these are in separate tanks. We got to see them during the tour, but did not swim with them.
Outside of the sea life, one of the most fun parts for me was seeing the other side of the park through the aquarium glass. It was fun to wave to my family in the middle of the dive and play rock-paper-scissors with my kids. You can swim down to the window of the Coral Reef restaurant and wave to the diners, who seemed to enjoy experience. Also, while it's hard to see into the window since it's a dark ride, you can see the windows into The Sea with Nemo & Friends ride and wave at the riders.
Also, they do get a photographer to take a picture of you at the surface, before the dive, to commemorate the trip.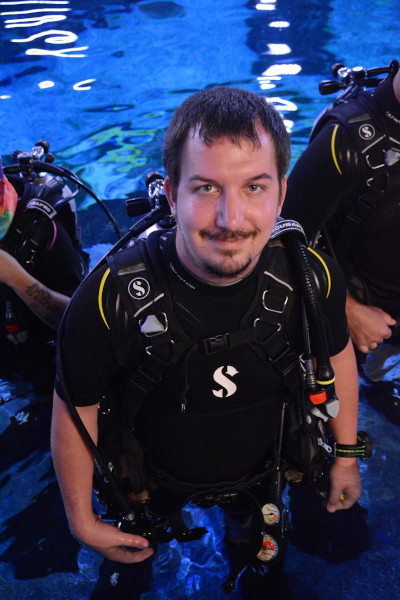 Overall I had a blast with the experience, would love to do it again, and am very grateful that my wife bought me the ticket! I highly recommend it to anyone that may be heading to Disney World!
---